Check out these upcoming Spring 2023 performances around the Southern California region!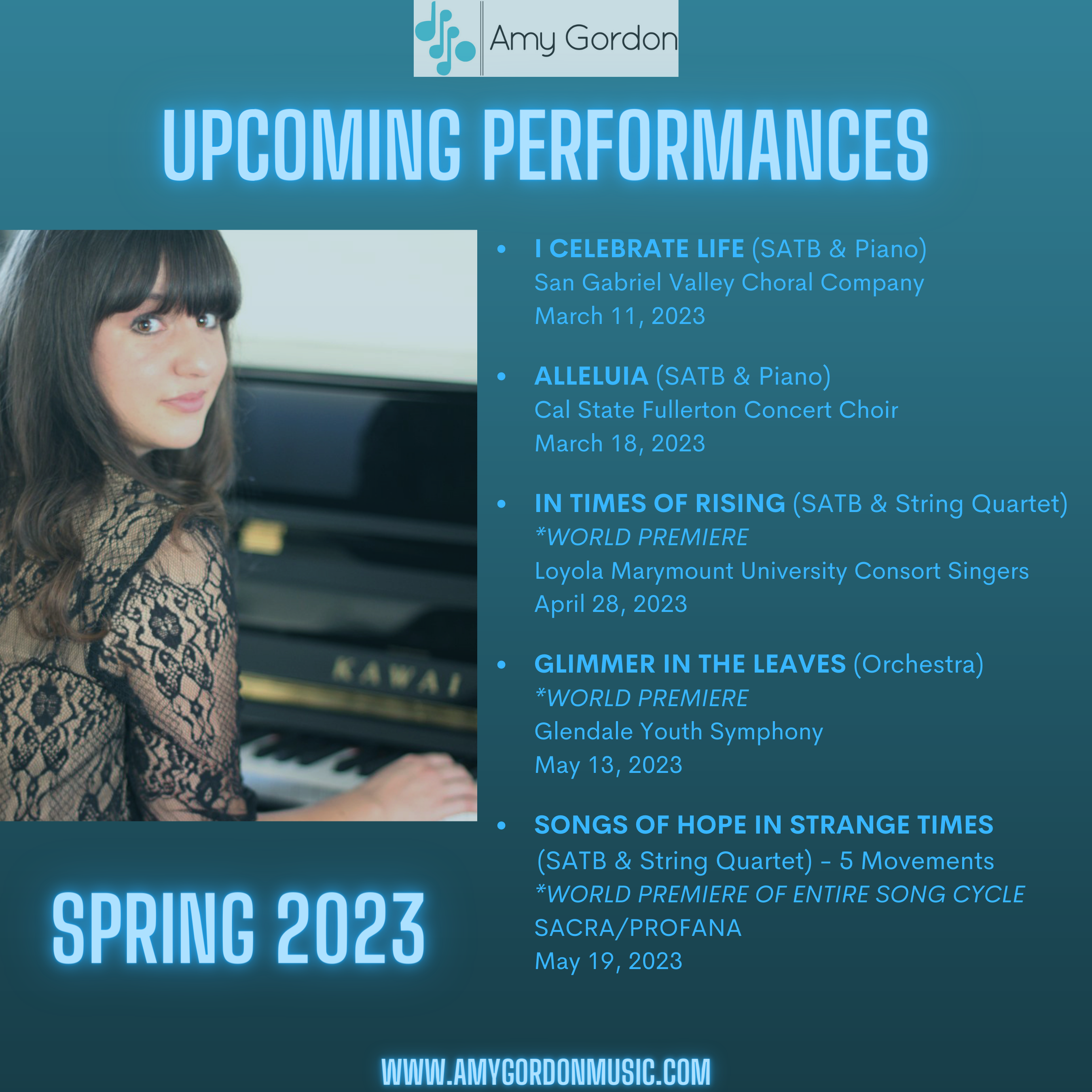 BRAND-NEW SINGLE "OK AGAIN" RELEASED!
OK AGAIN – Lyric Video
Available on all streaming platforms! https://amygordonmusic.hearnow.com
CREDITS:
Vocals, Lyrics, & Arrangement: Amy Gordon
Recording & Mixing: Katsuya Sezaki
Album Artwork: Ari Stultz
Happy to present two brand new additions to my Catalogue & Store!
In Times of Stasis | SATB Choir (with featured Treble Choir) & String Quartet | 5:00
This piece is about the deep sense of stasis I experienced (as well as many other people, I imagine) during the COVID-19 pandemic, especially in late 2020 & early 2021. This piece is special to me as it is the first time I wrote my own choral text, as well as my first time writing for full String Quartet, fulfilling two long term goals for me.

We are the Voices | SA Choir, Piano, & Bongo Drums (opt.) | 3:00
This piece was very fun to write as it fulfills specific educational parameters set by the commissioner Dr. Kyle Weary, such as only using the first 5 notes of the Major scale & very simple rhythms. I love writing within specific guidelines as it feels like solving a musical puzzle. This piece would be an easy learn for any Treble or Youth Choir!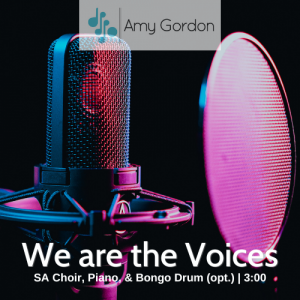 I am very thrilled to share this brand new recording of my piece Shadows for SSSAA Choir & Singing Bowl, which sets the gorgeous poem by my late aunt Susan Jordan. A huge thank you to A.J. Teshin & The Teshin Company for recording, mixing, and bringing this piece to life.
I cannot wait for the Holiday season! To prepare for the festivities, check out my Holiday Catalogue:
NEW ADDITIONS
In the Bleak Midwinter | SATB Choir | 4:00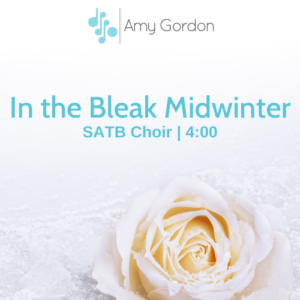 In Dulci Jubilo | SATB Choir, Piano, & Solo Cello | 3:00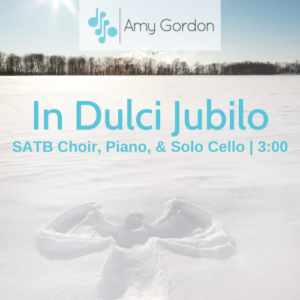 ChristMashUp Series | SATB Choir | 12:00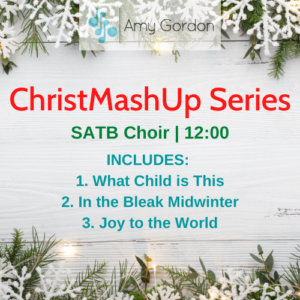 OTHER HOLIDAY MUSIC
Light in the Darkness | SATB Choir & Piano | 4:15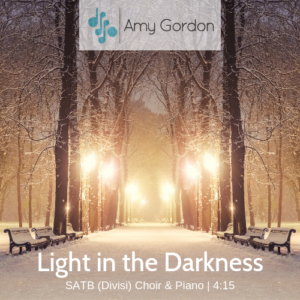 What Child Is This | SATB Choir | 4:30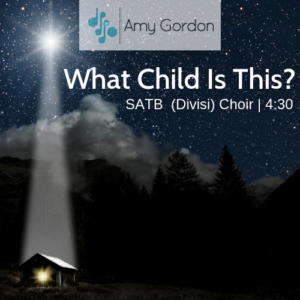 Joy to the World | SATB Choir | 3:00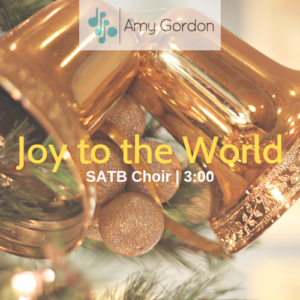 Coventry Carol | SATB Choir with Baritone Solo | 4:00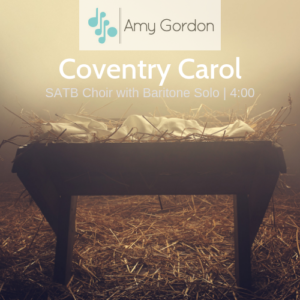 We Three Kings | SATB Choir | 4:30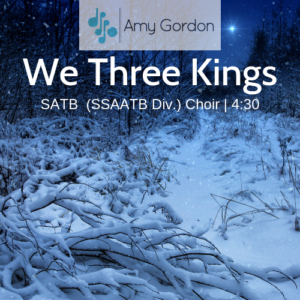 I Celebrate Life | SATB Choir & Piano | 2:30
(also available in SSA Choir & Piano)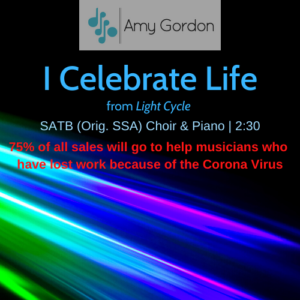 I hope that you are all staying happy, healthy, and safe in these strange times. In light of the COVID-19 crisis, I am offering several free & donation-based pieces for any choirs, ensembles, or schools who are interested:
In the Morning | SATB CHOIR & PIANO | 2:30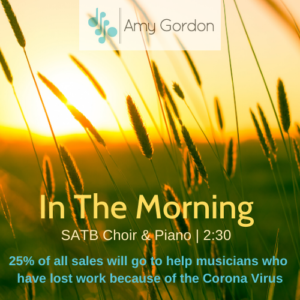 I Celebrate Life | SATB Choir & Piano | 2:30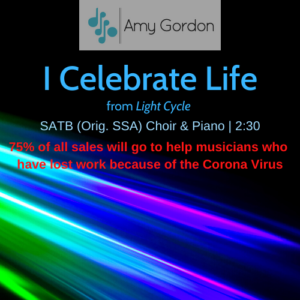 I Celebrate Life | SSA Choir & Piano | 2:30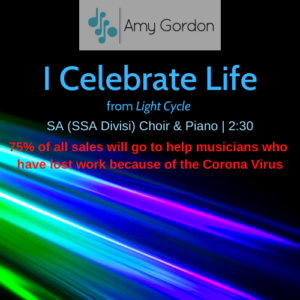 A Round for Change | Any Ensemble | Length Varies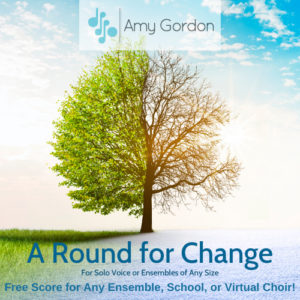 I am also available for Digital Visits! 
Book a 45-minute Visit with your Ensemble, Choir, or School here: Book a Composer Visit!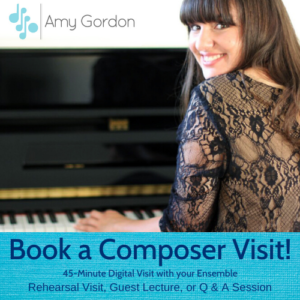 JANUARY started off with a commission from Dr. Joesph Ohrt for the Central Bucks High School-West Choir of Doylestown, PA. This was an exciting project for me because I had the chance to collaborate with poet, Charles Anthony Silvestri, who has written the texts for some of my favorite choral composers such as Eric Whitacre. I set the poem Lawn, which ponders why we spend so much time curating our lawns just to have nature's snow and falling leaves render our work futile.
I also got to stay in my first tiny house (110 sq feet), which was an interesting experience!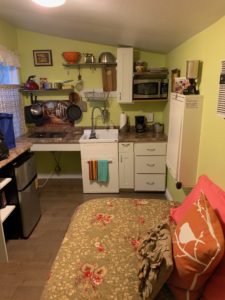 In FEBRUARY, I attended my first national ACDA Conference (American Choral Directors Association) in Kansas City, MO. I had a wonderful time being part of the Composers Fair, eating delicious BBQ, experiencing single digit weather, and meeting wonderful people. I made a lot of great connections that are still leading to exciting projects and updates.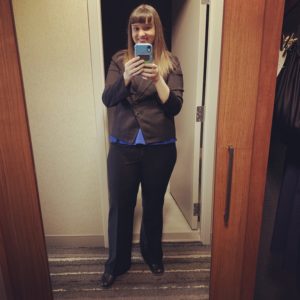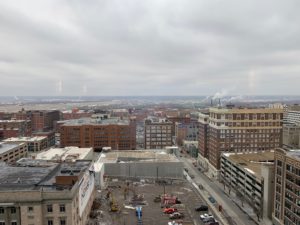 MARCH was packed with composing pieces for upcoming concerts. I composed my first piece for the Haegeum, a Korean stringed instrument. I really enjoyed writing for an instrument I have never composed for before. I also had my first experience collaborating with a chef, for the C3LA food-themed concert in May, 2019. I had a blast brainstorming with chef Pete Agraan as he designed a dish to be eaten while the audience hears the premiere of my set Ocean Poems, which sets two gorgeous poem by Jonathan Talberg. I have always been fascinated by synesthesia (combining the senses) and I learned a lot about music by combining it with food and taste. TL:DR – Music is delicious!
APRIL was a really special month for me as I got to travel to beautiful Hood River, OR to attend the premiere of my piece Sub Tuum Praesidium, which won the 1st annual Jim MacMillan Prize in Composition. Hood River is possibly one of the most gorgeous places I have visited and I loved spending time with the Voci choir of CGOA, directed by Mark Steighner, who premiered the piece. While in Hood River, I learned more about Jim MacMillan (for whom the prize was dedicated), who was a beloved figure in Hood River and also a singer-songwriter, got to visit a waterfall, stayed in a gorgeous hotel (Oak Street Hotel), shopped down-town, and even got to play a set of my original songs in the middle of the concert. Overall, it was one of the highlights of my musical career.
In MAY, C3LA premiered Ocean Poems, which sets two poems by Jonathan Talberg: When We're Gone 10,000 Years and I'm Still Here, as part of their Tasting Notes concerts, which paired food with music. The concert featured 4 premieres, each with corresponding dishes the audiences ate while hearing the music. I collaborated with chef Pete Agraan, who designed a delicious dish based on the Japanese dish takoyaki.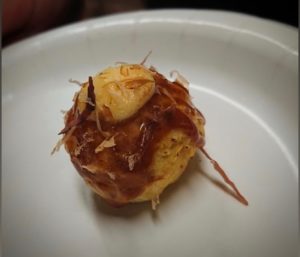 In JUNE, I got to work with one of my dream ensembles, Choral Arts Initiative, conducted by Brandon Elliott, in their 2019 PREMIERE|Project Festival. I attended three days of invaluable talks about being a modern composer and worked with the choir as they rehearsed my Alleluia, which they premiered at the festival culmination concert on Friday, June 14th. In late June, I attended Chorus America in Philadelphia, PA. This was my first time in Philly and I had a great time attending inspiring talks about the power of choral music to affect social change, meeting new people, hanging out with friends, and eating lots of delicious food!
JULY-AUGUST was a busy summer spent teaching, traveling, and getting ready for my website store launch.
In SEPTEMBER, I got to see my music for the first time in an AMC theatre during the festival screening of The Turner Exhibit (directed by Mathew Bainbridge), as part of the Burbank International Film Festival. It was a really cool experience hearing a score that started in my head coming out of the theatre's sound system. I got to perform a set of my original art songs with soprano-extraordinaire Ashely Stanbury, at my alma mater CSULB as part of the SAI Benefit Concert. And my best friend and roommate of 15 years moved out and bought a house, so I decided to try living alone for the first time in my life.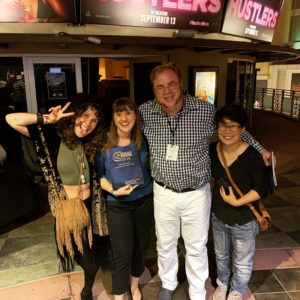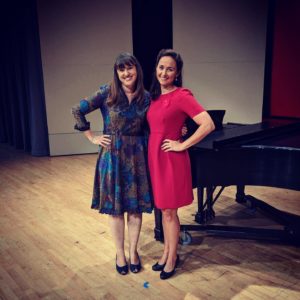 OCTOBER was a very busy month attending choir rehearsals, taking meetings to discuss future projects, and overall life things. I also officially started my position as Pasadena Master Chorale Composer Mentor, where I and Kevin Hartnett are mentoring 6 high school students as they compose for the Pasadena Master Chorale. PMC, conducted by Jeffrey Bernstein, will premiere these student works at the Listening to the Future end-of-season Gala and Concert in May, 2020. One of my goals has been to mentor high school composers, so this has been a dream position for me. After months of hard work and the genius design of Patrick Hassani, I launched my sheet music store, which sells my entire choral catalogue! It has been a game-changer for me to be able to sell all of my catalogue online and hope that it only continues to grow.
NOVEMBER was a special month as I saw my best friend, roommate of 15 years, and co-cat-owner Elizabeth Matson (now Manoukian) marry the love of her life, Oshin Manoukian. I was maid of honor for the wedding and had a blast. I also got to attend the CSULB Bob Cole Chamber Choir's performance of my piece I'm Still Here, conducted by Jonathan Talberg (also the poet of the piece) during a moving candlelit Vespers concert. It was very special to visit my alma mater, CSULB, several times this year and hear them sing one of my pieces.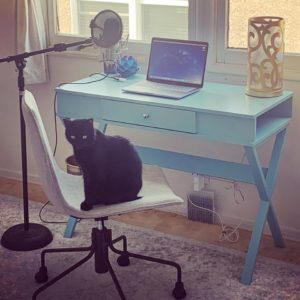 DECEMBER ended with a lot of high notes! One of the most meaningful moments was attending my first E-premiere via Facebook Live at my parents' house as we watched the Graham Middle School Choir, conducted by Jennifer Gaderlund, premiere my new set Light Cycle, which sets two poems by my paternal late-grandmother Rhoda Gordon: Light Up & I Celebrate Life. It was surreal watching a choir hundreds of miles away premiere my piece while I sat next to my dad, who was hearing his mother's words set to music coming from his TV. I also had some personal records: 46 performances of my music this year, 7 choirs performing my arrangement of Joy to the World, and paying my rent with sheet music sales in November.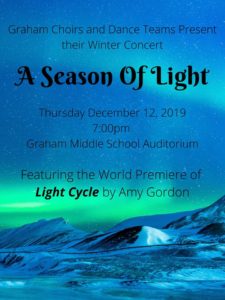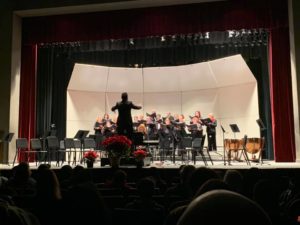 Overall, 2019 was a wonderful year and I hope that 2020 brings more music, fulfilling projects, and performances. Happy New Year!
I am thrilled that my score for The Turner Exhibit won Best Score by the Monkey Bread Tree Film Awards. The review states: "A really chilling and tense making score is provided here by Gordon. She pulls all the strings when it comes to creating an eerie world."
To create this chilling and eerie world, I explored the use of Shepard tones, which is an auditory illusion involving a seemingly-endless riser, similar to the seemingly-endless staircases in M.C. Escher's art.
The Turner Exhibit was directed by Mathew Bainbridge and has an all-star cast featuring David Costabile (Breaking Bad), JD Cullum, Angelica Page, Michelle Pawk, & Elizabeth Cassedy.


I am absolutely thrilled to announce that I have won the first annual Dr. Jim MacMillan composition prize!
My choral composition Sub Tuum Praesidium will be premiered on April 26 & 28, 2019 by the wonderful Voci choir of Columbia Gorge Orchestra Association, conducted by Mark Steighner! This choir is located in Hood River, OR and I am so excited to visit this beautiful city in April to hear the premiere.