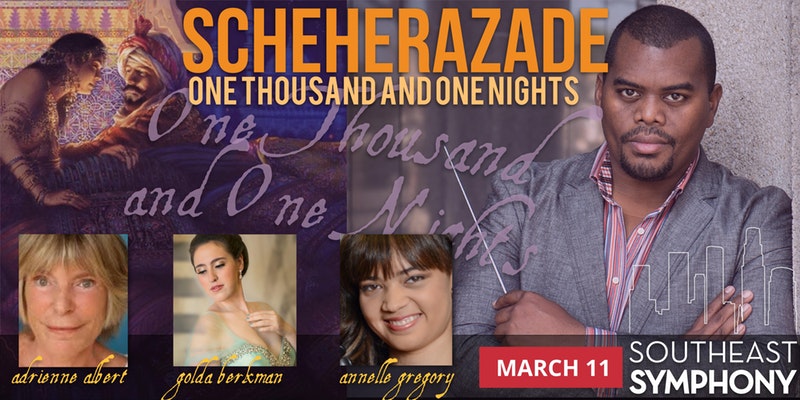 The Southeast Symphony kicks off its 70th season celebrating Women's Month. We also highlight the centennial of the birth of iconic American composer, Leonard Bernstein.
Maestro Parnther opens the program with the music of West Side StoryBernstein's modernized refashioning of Romeo and Juliet, which has earned its place as one of the greatest musical and commercial triumphs of the 20th century.
Los Angeles composer, Adrienne Albert, worked closely with Leonard Bernstein as a vocal soloist and contractor, alongside a cache of the most influential composers of modern times including Igor Stravinsky, Phillip Glass, and Gunther Schuller. Albert's Western Suite combines Copland-esque harmonies, hoedowns, and minimalistic intertwining throughout.
Annelle Gregory is the 1st Prize & Audience Choice Award winner of the 2017 National Sphinx Competition and is the featured soloist in Rimsky Korsakov's epic and colorful orchestral masterpiece.
The Sultan Schariar, convinced that all women are false and faithless, vowed to put to death each of his wives after the first nuptial night. But the Sultana Scheherazade saved her life by entertaining her lord with fascinating tales, told seriatim, for a thousand and one nights. The Sultan, consumed with curiosity, postponed from day to day the execution of his wife, and finally repudiated his bloody vow entirely.
We end our opening night program with the glorious music of Bernstein once again, this time from his Voltaire inspired operetta, Candide. After a journey that has brought young lovers Candide and Cunegonde from Westphalian idyll to disaster at sea, to Spanish bordello, the ravages of war, and back again, the cast unites at a simple farm to start anew in "Make Our Garden Grow" (I will be singing in this song!).
Date: 20180311
Time: 6pm
Venue: First Congregational Church of LA
Address: 540 South Commonwealth Avenue, Los Angeles, CA
Price: $15-$60